---Yuanda DZ series biomass boiler meaning horizontal three-pass flue gas boiler, wetback design, water-fire tube mixed, thread smoke tube in the drum, built-in steam generator, 5 stage water/pressure level protection etc. Mainly composed by boiler body, water treatment, flue gas system and control system.
---Popular biomass boiler for customer's request capacity in 0.5ton-40ton, 350kw-28000kw, output high temperature steam or hot water for production.
---Due to the different grates selected for different biomass fuels, they can be divided into DZL DZH DZW biomass boilers.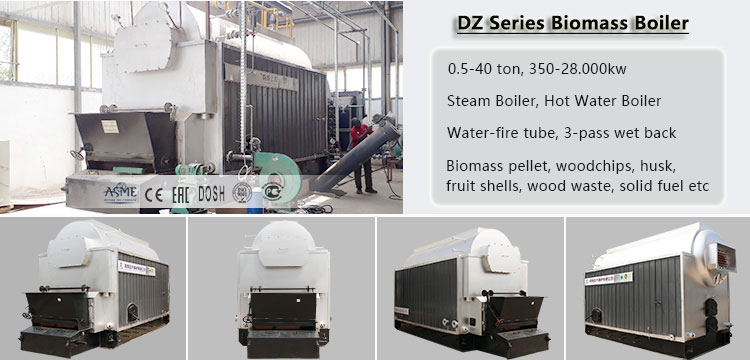 Advantages:




---
High Thermal Efficiency, Save Running Cost
3 pass flue gas flow structure;
Thread smoke tubes arranged in upper drum;
Double-layer 120mm aluminium silicate;
Equippend economizer with aluminum silicate insulation
Long using life and durable combustion system
First-level brand steel material;
Advanced expansion welding technique;
High-aluminum quick-setting refractory concrete;
Durable automatic grate stoker + New type high furnace with upside down "α"  flue gas flow
Safety Control, Easy Operation
Self-developed PLC control panel, best match with our boiler.
Automatically control all equipment with motor, FD fan, Draft fan, water Feeding pump, fuel feeder, slag remover.
Alarm & interlock function, ensure the boiler safe operation.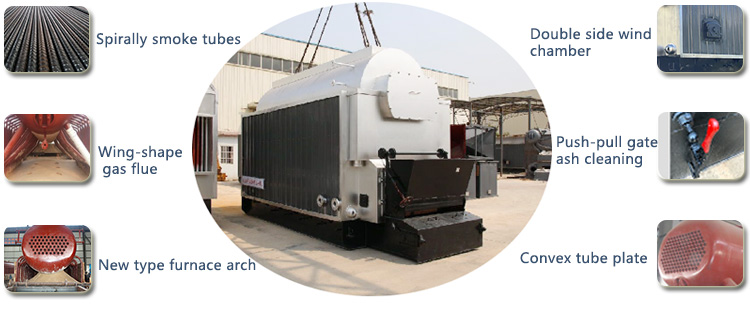 Differences in DZ Series Boiler:




---
1. Feeding way --- DZL DZW biomass boiler is automatic boiler, DZH boiler is manual type biomass boiler, need workers to put in the fuel, a little lower efficiency than DZL.
2. Combustion device --- DZL use chain grate, DZW biomass boiler use reciprocating grate(step grate), DZH biomass boiler use traveling grate(moving grate)
3. Biomass fuel type --- DZL biomass boiler is more suitable for regular biomass like biomass pellets, woodchips, coconut shell, rice husk etc; DZW biomass boiler is more suitable for high humidity fuel like palm waste, pine waste, sawdust, bagasse etc; DZH is more suitable for big size biomass fuel like woodlog, firewood, briquette, woo waste, jute, waste fabric etc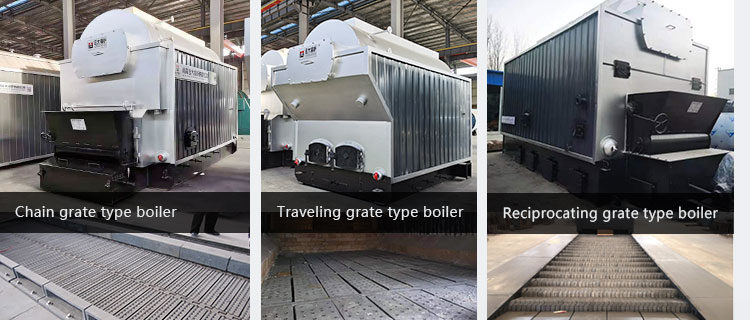 You May Interested:




---
---SZ series water tube biomass boiler with reciprocating grate or chain grate, double-drum show "D" or "A" layout. Sufficient output, will design special furnace according to different solid/biomass fuel
---LSS biomass pellet steam generator, capacity in 100kg to 4000kg, 70kw to 2800kw. Heat up fast, integrated design, small occupied, free installation

Boilers We Have:




---
① Steam Boiler/Generator (the boiler can produce pressure steam/vapor for production process) , Hot Water Heater Boiler (output hot water or central heating for space/buildings), Thermal Oil Heater Boiler (heating oil purpose, hot oil circulation for factory), Turbine Boiler (drive turbine, to generating electricity)
② Fuel can be: Gas, Lpg, Diesel, Heavy Oil, Coal, Wood, Biomass, Charcoal, Briquette, Pellets, Waste Fabric, Husk, Fruit Shells, Forest Waste, Paper Waste etc
③ Sructure has: Fire Tube Boiler, Water Tube Boiler, Water-Fire Tube Boiler, Chain Grate Boiler, Reciprocating Grate Boiler, Step Grate Boiler, Traveling Grate Boiler


---- Welcome to inquiry, If you need boiler ----