YUANDA BOILER manufature kinds gas / oil burner boilers from 100kg to 40,000kg, 80kw to 28,000kw. For steam output, for hot water output, for heating material, machine or space... Gas/oil boiler can be applied in various industries.

WNS Gas/Oil Fired Boiler:




---
-- WNS series oil gas boiler meaning "Horizontal Automatic Fire Tube Boiler"
-- Adopts three-pass wet-back structure, larger corugated furmace and thread smoke tube and advanced expansion welding technique
-- Strong power, equipped with international first-level brand burners
-- Using energy-saving device like economizer/condenser, environmental protection and energy conservation
-- Independently developed high-matching PLC control system to realize muitiple linkages, easy to operate, protect the boiler long uselife & running safely.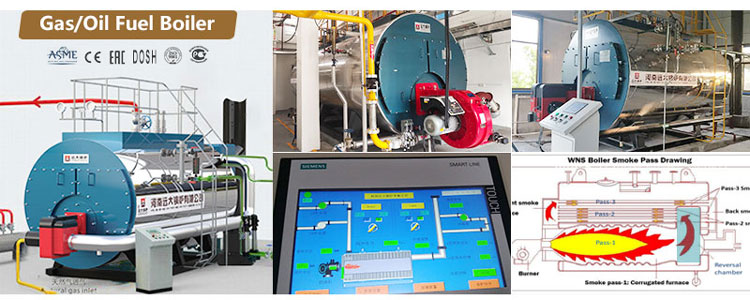 Advantages of WNS Boiler:




---
High Security, Safe Operation
①Anti-dry heating system with five stages water level check;
②Four stages pressure protection;
③Explosion-proof door with fire viewer;
④Remote monitoring system.
High Efficiency, Energy Saving. Save Fuel & Running Cost
①Large radiate heating surface corrugated furnace, and patent design three pass smoke tubes;
②Built-in steam separator, ensure high steam quality with wetness below 1%
③Double 12mm thickness aluminum silic ate insulation layer;
④Finned tube design economizer with aluminum silicate insulation, greatly reducing heat loss
Long Using Life and Convenient for Maintenance
①Wet-back smoke conversion chamber;
②Solid round steel tension rod design;
③Rapid solidification and high-strength refractory building materials;
④Double opening-door at front and back.
Fast-assembly Boiler, Packaged Boiler
Easy for transportation and installation, also could be pre-installed in the factory, customers only need to connect water, electricity, fuel at site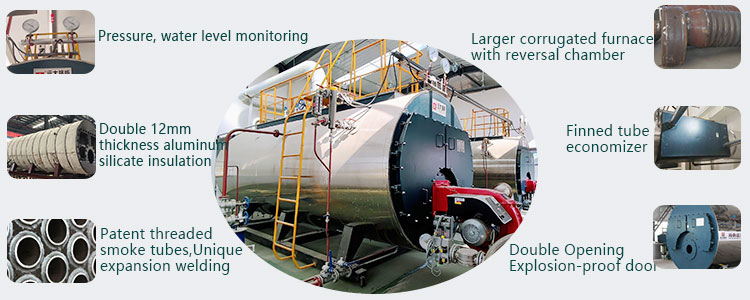 Boiler System Diagram:




---
Necessary parts including boiler body, burner, control panel, valve gauges, water pump tank, water treatment, steam header, chimney etc. Condenser, deaerator is optional.

Related Vertical Oil Gas Boiler:




---
--- Vertical LHS gas(fuel oil) fired boiler, capacity range in 100 kg - 2000 kg. Vertical standing industrial boiler, suitable for limited space user.