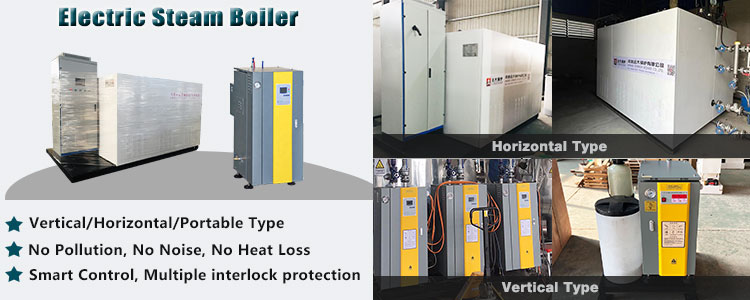 YUANDA BOILER manufacture 9kw to 14000kw electrical heater boiler (steam&hot water boiler) with ASME CE ISO EAC DOSH. It used for steam output, for hot water output, for heating processing... Electric boiler can be applied in various industries.
Horizontal Electric Boiler Features:




---
WDR meaning horizontal electric heating boiler, capacity in 0.5ton to 10 ton, 350 kw to 7000 kw, runs in "ladder" type, and controlled by intelligent PLC.
1. Well-known stainless steel and electrical components, multiple automatic interlocking control systems make sure boiler easy to use&long lifetime.
2. The hydro-steam separation design, high steam quality, wetness lower than 1%
3. Intergrated structure, no fuel & chimney arrangement, reduces the room space
4. Strict safety control for water level & pressure & steam temperature
5. Easy to install, put into use quickly
6. Less auxiliary, low maintenance and service costs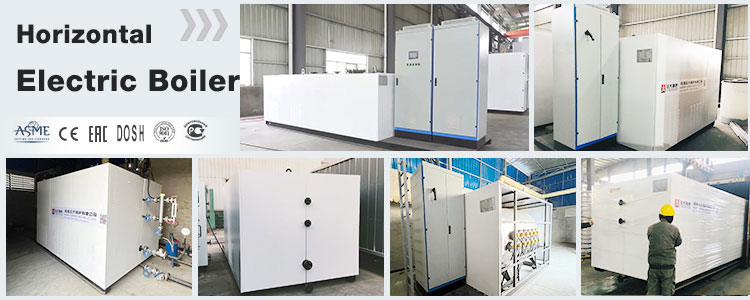 Advantages:




---
-- Adopts current most advanced technology, mainly composed by boiler body, water supply and control system.
-- Compliant with relevant safety standards and regulations
-- 99% high efficiency rate and low energy consumption
-- Integrated structure, only need connect water, elelctric, steam pipe, easy to install and maintain
-- Built with famous high-quality materials&electrical components, to ensure long-lasting durability
-- Well-known brand since 1956, backed by a strong warranty and after-sales support
Small Electric Steam Generator:




---
LDR meaning standing electric steam generator, capacity in 18-500kg, 25kw to 350kw. Stainless steel fast heat up electric steam boilers with compact size, small occupied. Automatic water feeding pumps inside, fully automatic water level and pressure control, free installation, could continuous work.