1. LSS series vertical gas/lpg/diesel oil fired steam generator is a new type once-through steam generator, also named quick steam boiler/generator, reverse flame water back structure, it could generate steam within 3~5 minutes.
2. Yuanda Boiler Corp., Ltd offers kinds of innovative, highly efficient and quality steam generators. Compare with steam boiler, steam generators provide a safe, reliable and more rapid method of steam generation for the industrial user.

Application of Gas Oil Steam Generator:




---
Widely used in industries such as food & beverage, dairy products, edible oil, starch, tea, feed mill, rice mill, garments, chemical, pharmaceutical, paper, textile, wood processing, packaging, dyeing, foam, refinery, tobacco, plastic rubber, oilfield, autoclave, EPS, leather, battery, concrete, washing powder, soap, cosmetic, bitumen, slaughthouse, hotel, laundry...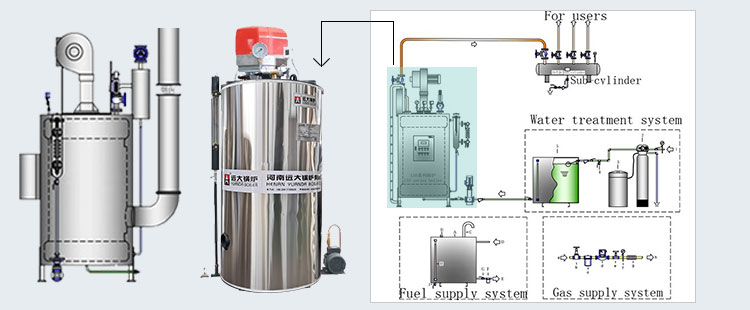 Advantages:




---
1. Fast Steam Generation
The boiler start up quickly, and could get stable temperature and enough pressure within a short time, steam is generated quickly.

2. High Thermal Efficiency
① The boiler is advanced once-through structure, and the small water capacity achieves fast heat absorption.
② The boiler adopts three-pass structure, absorbs the thermal expansion effectively.
③ Heat transfer fast ,reduce the heat loss , guarantee boiler efficiency

3. Advanced Burner
Equipped with high quality and reliable burner & original import , high combustion efficiency, low harmful gas emission and noiseless operation.

4. Safe Operation
Adopts automatic controller, operate conveniently and safely. The boiler has interlock protection system on water level, steam temperature, pressure, and flame out, etc.

5. Packaaed compact structure & Small footprint
Adopts vertical structure, occupy small area, no need boiler room,reduce cost.

6. Convenient installation
The boiler is packaged delivery when leaving factory, so this boiler running only need to connect the water power, electric power, oil/ gas supply tube, and blowdown pipeline.ect
Steam Generator Projects:




---