Yuanda Boiler focus on coal boilers design&production since 1956, we have kinds coal fired boilers for steam output, for hot water output, for factory use or buildings heating. Coal boiler can be applied in various industries.
DZL Coal Boiler:




---
1. DZL boiler is a horizontal three-pass water-fire tube mixed chain grate coal fired boiler. Capacity in 0.5-40ton, 350kw-28000kw.
2. Wetback design, thread smoke tube in boiler drum, built-in steam generator, 5 stage water/pressure level protection, return water injector for coal hot water boiler, and unique expansion welding technique, all make DZL coal boiler high efficiency & long lifespan
3. Mainly composed by boiler body, water treatment, flue gas system and control system.
4. Equipped energy-saving device like economizer/preheater/cyclon/wet scrubber, environmental protection and energy conservation

Feature of DZL Coal Boiler:




---
1. Adopts 3-pass wet back sturcture, arched tube plate, spiral corrugated fire tubes, to strengthen boiler efficiency, prevent tube plate cracking
2. Two-Wing flue gas at side, reduce smoke temperature, reduce heat load of boiler bottom and prevent bulge.
3. Secondary air ventilation system in boiler, increase burning efficiency and save fuel cost
4. Built-in steam separator, ensure high steam quality with wetness below 1%
5. Anti-dry heating system, five stages water level check, four stages pressure protection
6. Built-in rotary sootblower and inspection door
7. New large furnace design with dust separation chamber, make boiler high efficiency, reduce the original dust
8. Strict smart protect for temperature, pressure, water level, ensuring safe and easy to us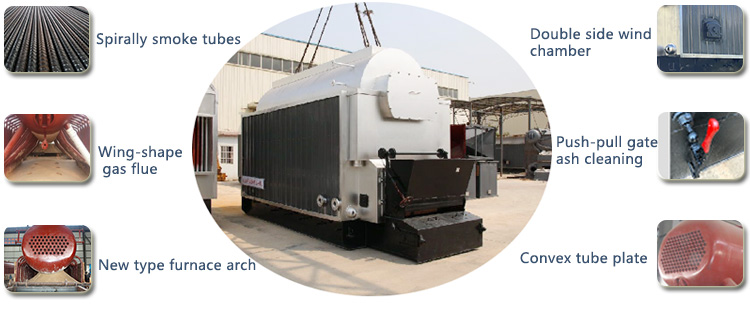 Small Vertical Coal Boiler:




---
---LSG is a vertical coal boiler that use fixed grate, manual type coal boiler, capacity in 0.3-1ton, strong fuel adaptability like wood log, waste wood, firewood, coal, waste fabric, and other solid waste
---LSS is integrated coal fired heating boiler, for hot water or heating needs. Capacity in 50 kg-2000kg, 50kw-1400 kw, compact structure, small occupied.

Boilers We Have:




---
① Steam Boiler/Generator (the boiler can produce pressure steam/vapor for production process) , Hot Water Heater Boiler (output hot water or central heating for space/buildings), Thermal Oil Heater Boiler (heating oil purpose, hot oil circulation for factory), Turbine Boiler (drive turbine, to generating electricity)
② Fuel can be: Gas, Lpg, Diesel, Heavy Oil, Coal, Wood, Biomass, Charcoal, Briquette, Pellets, Waste Fabric, Husk, Fruit Shells, Forest Waste, Paper Waste etc
③ Sructure has: Fire Tube Boiler, Water Tube Boiler, Water-Fire Tube Boiler, Chain Grate Boiler, Reciprocating Grate Boiler, Step Grate Boiler, Traveling Grate Boiler


---- Welcome to inquiry, If you need coal boiler ----