Yuanda DZL-VII type rice husk fired boiler adopts horizontal three-pass flue gas flow structure, automatic chain grate, unique furnace design, and thread smoke tube technologies, water-fire tube mixed boiler with 5-th water level protection, high-matching PLC smart control. This boiler is called as "Revolution of Industrial Boilers" both by domestic and abroad market.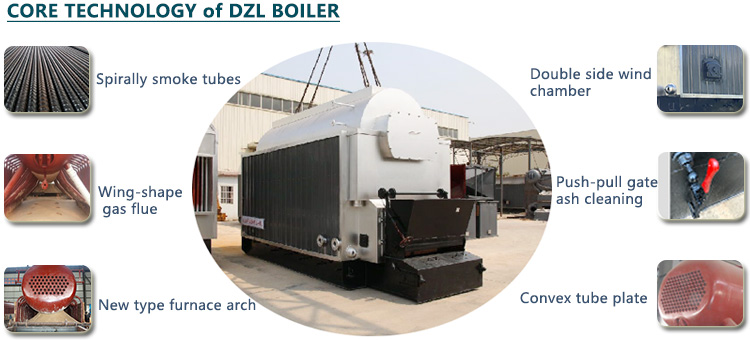 DZL husk fired boiler usually used for rice production line, steam capacity is in 0.5ton/h to 40ton/h. Also can be customized for special fuels such as Coal, Coconut Shell, Wood, Sawdust, Palm waste, Waste Fabrics etc.
Boiler model
DZL1
DZL2
DZL4
DZL6
DZL8
DZL10
DZL12
DZL15
DZL20
Rated steam capacity(ton/hr)
1 ton
2 ton
4 ton
6 ton

8 ton
10 ton
12 ton
15 ton
20 ton
Rated steam pressure(mpa)
0.4/0.7/1.0/1.25/1.6/2.0/2.5/3.82

Advantages:




---
High Thermal Efficiency, Save Running Cost
3 pass flue gas flow structure;
Thread smoke tubes arranged in upper drum;
Double-layer 120mm aluminium silicate;
Equippend economizer with aluminum silicate insulation
Long using life and durable combustion system
First-level brand steel material;
Advanced expansion welding technique;
High-aluminum quick-setting refractory concrete;
Durable automatic grate stoker + New type high furnace with upside down "α"  flue gas flow
Special Design for Rice Husk Boiler
Due to the burning characteristics of rice husk fuel, we has:
secondary air compensation system
reinforced water wall tubes, resist to wearout
improved furnace arch, volume and distance
inverter induced fan, avoid backfire in fuel hopper
Safety Control, Easy Operation
Self-developed PLC control panel, best match with our boiler.
Automatically control all equipment with motor, FD fan, Draft fan, water Feeding pump, fuel feeder, slag remover.
Alarm & interlock function, ensure the boiler safe operation.
Rice Husk Boiler Work Flow:




---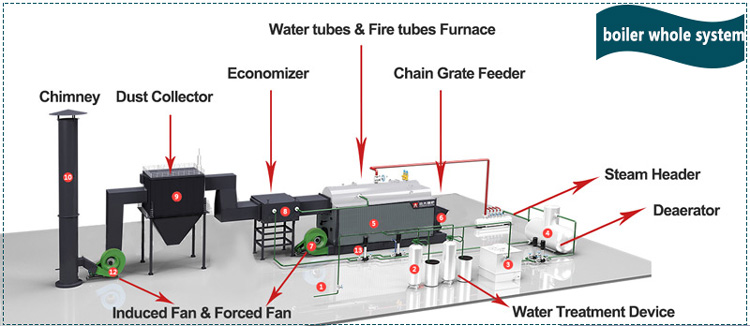 Related - Combined Rice Husk Boiler:




---
WNS-T is a rice husk fired boiler that is a combination of a biomass burner and fire tube boiler, and is more popular because of its flexibility. It can convert to gas fired or oil fired It can convert to gas fired or oil fired if required. The thermal effiency is a little lower than DZL type.