---WNS fuel oil fired boiler is a horizontal type fire tube boiler. It's a popular model in the needs of steam or hot water. Can operated by natural gas, lpg, diesel, heavy oil, dual fuel and exhaust gas...
----It adopts three-pass wet-back structure, large corugated furmace and thread smoke tube technology, 5-th water level protection, equipped wih intemational first-level brand burners and valves, instruments,advanced expansion welding technique, and independently developed high-matching PLC control system to realize muitiple linkages, protects the equipment long uselife & running safely.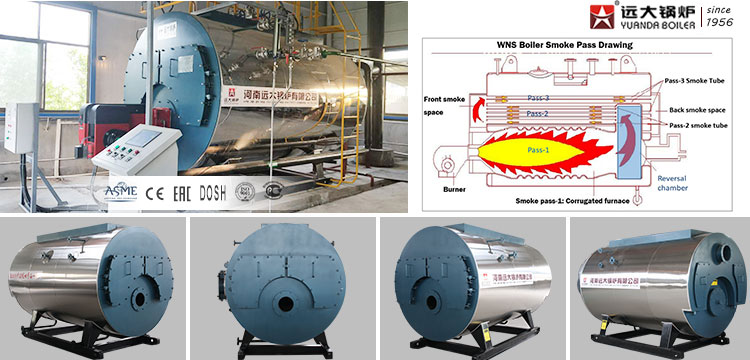 Advantages of WNS Oil Boiler:




---
High Security, Safe Operation
Anti-dry heating system with five stages water level check;
Four stages pressure protection;
Explosion-proof door with fire viewer;
Remote monitoring system.
High Efficiency, Energy Saving. Save Fuel & Running Cost
Large radiate heating surface corrugated furnacePatent design spirally smoke tubes;
Double 12mm thickness aluminum silic ate insulation layer
Finned tube design economizer with aluminum silicate insulation, greatly reducing heat loss
Long using life and convenient for maintenance
Wet-back smoke conversion chamber;
Solid round steel tension rod design;
Rapid solidification and high-strength refractory building materials;
Double opening-door at front and back.
Fast-assembly boiler, packaged oil fired boiler
Easy for installation. also could be pre-installed in the factory, customers only need to connect water, electricity, fuel, etc.
Related Vertical Boiler & Oil Boiler:




---
--- Vertical LHS gas(fuel oil) fired boiler, capacity range in 100 kg - 2000 kg. Vertical standing industrial boiler, suitable for limited space user.
--- YYQW Thermal oil boiler is used for fluid/oil heating, also named hot oil boiler, thermic fluid heater. The heating capacity output from 120 kw to 14000 kw. Three coil wetback, "oil cover fire" structure, big open door, fully automatic with inspection door, large furnace.